Nima Baft Kashan Industries Co.
Manufacturer And Exporter Of Machine-made Carpet
Nima Baft Co. as a machinery carpet manufacturer was founded in 1997 with the aim of innovation, exports and employment in Kashan, Iran. This company has started its activities by using modern and newest technology of European machinery and quality control instrument such as technical raw material and woven products laboratory. It attempts to improve their quality by employing professional and knowledgeable textile experts.
Nima Baft can export its products to the market by using desirable raw material, suitable color and relying on traditional Iranian art.
As a consequence of increasing market demands in finishing section, Nima Baft extended its manufacturing spectrum to include chemical material in 2011 named Mahoor Carpet & Chemical (MCC). Our chemical is based on Nanomaterial and applied for different finishes. The new section of chemical material is as following:
– Water Repellent
– Antibacterial material
– Flame Retardant
– Self Cleaning
Nima Baft is proud of the effort made by managers and expertise personnel which can obtain the Iranian National Standard in 2005. It also is a member of Exports Union and Association of Iran Textile Industries and succeeded in obtaining the ISO 9001.
Nima Baft is looking to develop its activities and announce its readiness to collaborate with other companies for supplying chemical material in finishing of Textile.
OUR TEAM
.What makes you superior is not Technology , It's thought










Prizes & Awards
Mahoor Carpet is honored to achieve Standard sample unit of Isfahan and all related awards.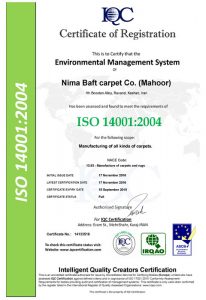 Environmental Management System
Occupational Health and Safety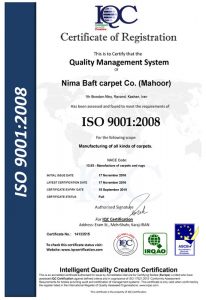 Quality Management System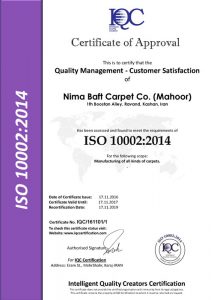 Quality Management – Customer Satisfaction