DOMOTEX is one of the world's leading trade fairs for carpet and flooring. With focusing on trends, innovation and sustainability, DOMOTEX is the main trading hub for manufacturers, wholesalers, furniture stores and
retailers from all around the globe
History of DOMOTEX
DOMOTEX was founded in 1989 in Hannover, Germany. This event gained rapid popularity and is now known as one of the world's main carpet and flooring exhibitions. DOMOTEX is held in different countries including
Germany, Turkey and China each year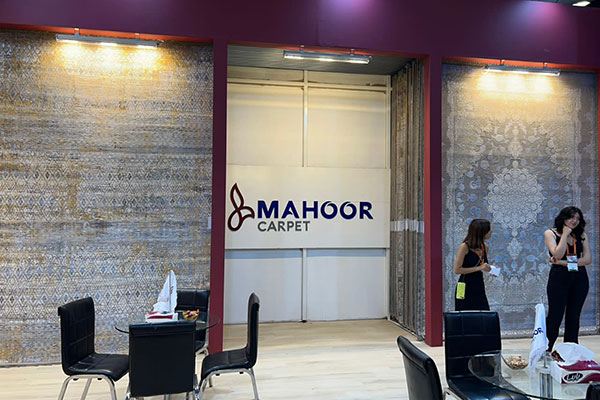 DOMOTEX Turkey 2023
Usually held in Gaziantep, DOMOTEX Turkey had to move to Antalya due to the devastating earthquake in Gaziantep
Having an international airport that is close to various hotels and the fairground and attarctive tourist attractions, Antalya was an appropriate choice for the new location of DOMOTEX Turkey
DOMOTEX Turkey 2023 took place on 10-13th July, 2023. With around 100 exhibitors and visitors from 72 countries, DOMOTEX Turkey strengthened its position as a flagship show and key international gathering for the carpet sector by facilitating major business deals to carry the sector towards its export targets.
As a vital human survival practice, Sustainability and Recyling was the main theme of this year's DOMOTEX Turkey.
Mahoor Carpet's CEO's Attendance at the Opening Ceremony
DOMOTEX Turkey's opening ceremony took place with the attendance of DOMOTEX Hannover's board of directors and some of the exhibitors. The ceremony started with Ms. Sonia Wedell-Castellano speech on the key
elements of the exhibition. Mahoor Carpet's CEO, Mehdi Zabeti, and Dr. Shahin Kazemi, vice president of Association of Iran Textile Industries, attended this ceremony as well.
Mahoor Carpet's Booth in DOMOTEX Turkey 2023
Mahoor Carpet attended DOMOTEX and hosted many retailers and visitors from all around the world as per usual
This year, Mahoor Carpet had the honor to host its old costumer's as well as new costumers from various other countries. By launching a new palette and exhibiting more than 25 new designs, customer satisfactory was achieved.